Section 1 - I love my car
Cars: relevant today and for many years to come
One of the key findings of L'Observatoire Cetelem de l'Automobile 2017 is that motorists do not content themselves with declarations and statements of intent. While pleasure, the love of driving and the freedom associated with cars are put forward quite clearly, there is also a great keenness to actually make a purchase. And what's more, people are prepared to dig deep into their pockets!
An urge to spend more
More than nine out of ten motorists who intend to buy a car within the next two years plan to spend at least as much as they did on their current car, with six out of ten prepared to spend more.
In Europe, Japan and the United States, purchasing intentions are more measured, with» only» 47% planning to spend more. The Poles display greater ambition than their European neighbours, with 62% declaring that they are ready to break the bank to buy a nice car. In the emerging countries, and notably China, where a whole generation of first-time buyers are now looking to replace their vehicle, the desire to move up-market is just as clear. In fact, 93% of Chinese respondents state that they are prepared to spend big to treat themselves, with 78% declaring that they are willing to spend more.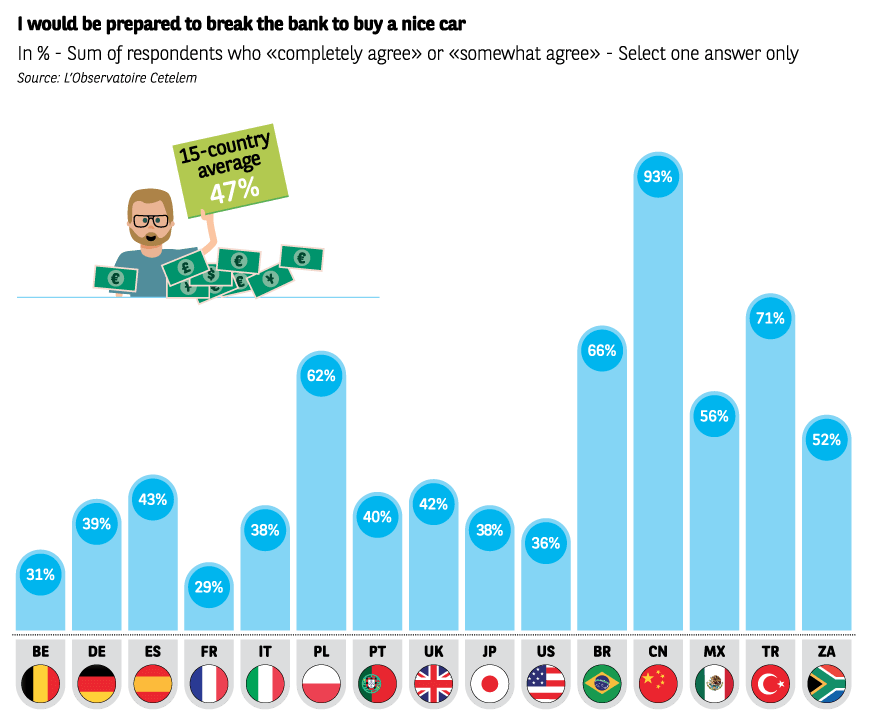 Download this infographic for your presentations
Average prices are on the up
These declarations of intent are borne out by the figures. Over the last five years, the average price of new cars has increased in most European countries, as well as the United States. Only in Spain and Portugal have prices fallen, as a result of a particularly tough economic climate. The popularity of SUVs goes a long way to explaining rising car prices, given that these models tend to be slightly more expensive than a similarly sized saloon car.
In China, the drop in the average price observed between 2011 and 2015 should not be seen as a blot on the copybook. Quite the opposite in fact, as this is a sign that the product is gaining ground among the lower middle classes, who are less wealthy than the clientele attracted initially. This is especially the case in medium-sized cities located inland, where the appetite for cars is huge. The entry into the market of SUVs made by Chinese firms, which are both well designed and affordable, has contributed significantly to broadening the car's appeal. And the concessions made by Chinese car buyers remain much greater than those observed in the developed nations.
In 2014, buyers spent an average of 1.2 times their annual salary to buy a new car (with peaks of more than 2 in the luxury segments), while European buyers spent the equivalent of half their annual salary and Americans a third.
An unashamed attachment
But is it possible, nonetheless, that cars could fall out of favour with consumers? Certainly not, or so motorists tell us.
With regard to ownership, only two out of ten motorists state that they are prepared to no longer own a car one day and, even then, not in the immediate future. Those least receptive to the idea are motorists in the emerging countries, particularly in China, where the appetite for cars is still new. At the other end of the spectrum, Japanese consumers seem less afraid to take the plunge.
In terms of usage, the response is just as clear. Eight out of ten people state that they would never give up their car, with the Chinese once again the most vehement in this regard. 80% of French respondents agree, a result that is in line with other European countries.
And again, eight out of ten motorists believe that cars will be as important, if not more important, in 20 years' time. Today cars are much loved. And this is sure to be the case for a long time to come.
Consumer Testimonies
« I use car sharing every day. This means no costs, few responsibilities and almost total freedom. »
A buoyant outlook for the car market
China's growth potential is undeniable. However, the rate of growth will be slower than in the past.
In Brazil, once the country has emerged from its political and economic predicament, consumers should be quick to express their latent need for private vehicles.
In Turkey, the low rate of ownership and the advancing age of the cars currently on the road (12.7 years on average) should lead to rising demand in the medium term.
In Mexico, the recent fall in used-car imports will breathe new life into the new-vehicle market (growth of 4.5% per year is expected).
Businesses will have an ever greater influence on the markets of developed countries, which are now close to saturation point.
With the proliferation of finance options such as leasing and the emergence of collaborative mobility solutions such as car sharing, car ownership will gradually shift from the private sphere to the public and business spheres. This will facilitate access to cars for populations whose reach they were once beyond.
Moreover, in a world where firms seek to attract and secure the loyalty of employees, but also to manage the cost of labour in an optimal manner, so-called company cars will be a viable way of offering their staff fringe benefits.
This shift in ownership from consumers to businesses or local authorities will lead to a natural shortening of replacement cycles. The perpetual ageing of company fleets, a widely observed phenomenon, could thus be stymied and even thwarted altogether.
Sub-section 8
The joy of motoring in all its forms
More than eight out of ten motorists declare that they love getting behind the wheel. Only the Japanese and Americans display greater indifference. Both countries have many large conurbations and fe
End of study
I love my car