Section 1 - I love my car
An element of doubt
Scandal after scandal
Volkswagen's «Dieselgate» scandal of 2015 opened the eyes of consumers to the dark side of the sector, whose reputation had never previously been smeared by such underhand practices. And the German manufacturer's unmasking may only be the tip of the iceberg of suspicion, with numerous other brands having been incapable of justifying the discrepancy between emission levels measured on test benches and those recorded out in the real world.
The 2017 edition of L'Observatoire Cetelem de l'Automobile shows that consumers are no longer prepared to be duped. On average, 56% of those interviewed state that the affair has negatively impacted their perception of car brands.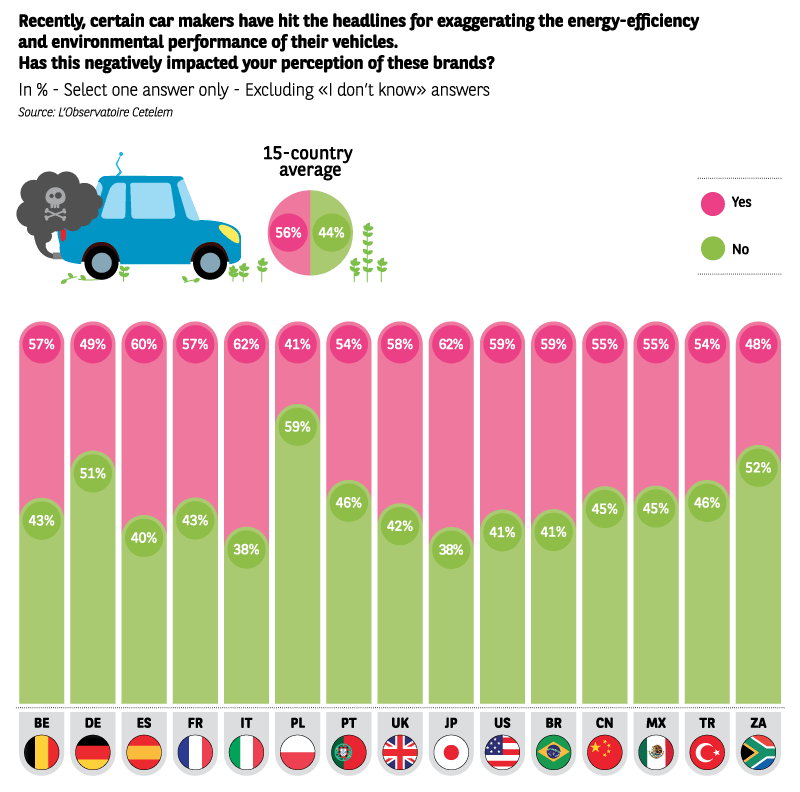 Download this infographic for your presentations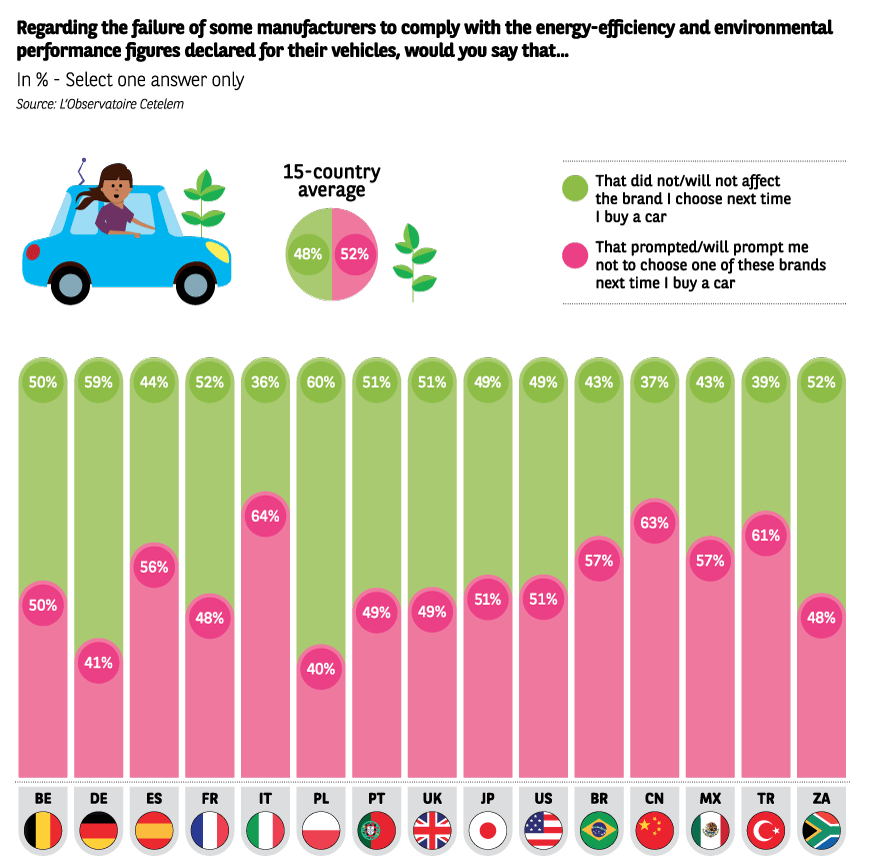 Download this infographic for your presentations
While fewer than one in two households in Belgium, Poland and South Africa have a negative view of the firms in question, 60% of the population questioned in Spain, Italy, Brazil and the United States take a more critical stance. This negative image perception is closely reflected in the figures gathered on consumer purchasing trends.
52% of the people surveyed state that they will never buy a car produced by any of the brands affected by these scandals. The Italians, Chinese and Turks are the most virulent in this regard (64%, 63% and 61%, respectively). Yet, up until now, setting aside diesel's reduced penetration in Europe, there has been very little impact on the market shares of these brands across the world. Given the historical clout of these car makers and the efforts they are currently making in terms of product programmes and public relations in order to rebuild their reputation, there is no reason to believe that they will not succeed in overcoming this setback and repairing the damage caused to their image, whose potential remains high.
Consumer Testimonies
« Of course I've heard of the Volkswagen scandal, consumers have been tricked, but I'm sure this is not an isolated case in the industry. »
Are cars overly stigmatised in the public conversation?
During such a far-reaching crisis, the impact of the mainstream and specialist media cannot be overestimated, given the huge role they play in the debate surrounding the car industry. Of course, they are quick to celebrate the market's return to growth, the success of a domestic brand or the fact that assembly plants are recruiting once again. But a whole raft of criticism, relating to pollution, road safety, traffic-related deaths and the disproportionate cost to households, continues to eat away at the motoring dream. Some of this negativity can be considered unjustified if we take into account the remarkable advances made in terms of safety, the reduction of harmful emissions, comfort and even price.
Consumer Testimonies
« I find that the media's treatment of the automotive sector is not always consistent. One minute cars are the greatest invention in history, the next they are our worst enemy and have to be taxed into oblivion… »

« It seems as though the messages we hear are intended to make us feel guilty. I'm worried that motoring will eventually become just another soulless and pleasure-free form of passenger transport. »
Sub-section 2
Ever strong regulation
This is the era of security, risk prevention and greater societal consciousness. Despite the progress made in terms of safety and the drop in traffic-related deaths, tolerance for the human cost of
Sub-section 4
Car sales are in rude health
The indicator that best illustrates the car industry's resistance to pressure is sales. Having experienced growth of between 4% and 5% from 2011 to 2014, and 1.6% in 2015, the global market reached