Section 3 - Activist consumers want to capture power
A direct impact on brands
A SMALLER CHOICE OF BRANDS TO ENSURE CHEAPER PRODUCTS
In 2010, L'Observatoire Cetelem questioned Europeans to find out what they would be prepared to accept in order to lower prices. This year they were asked the same question. Their answers confirm the emergence of a form of activism that could have a direct impact on purchasing decisions, but also on our relationship with brands (Fig. 28). in all cases, notwithstanding the idea of doing away with cashiers in stores, the shift in opinion is significant, not to say radical.
Four of the statements put forward have seen their popularity increase by around 20 points or more.
69% of Europeans would like price reductions to be achieved by limiting the number of brands available (+22 points). 63% argue for a limited choice of products (+24 points). 51% would prefer to do without after-sales service (+21 points). And 32% would accept lower quality.
On other topics, the changes observed over the last 10 years are less significant but nevertheless reflect strong opinions on the part of consumers. 85% would opt for products presented less elaborately (+4 points) and 59% for a less pleasant shopping environment (+12 points).
Only 32% would choose to ignore the environmental impact of products, although this is up 6 points.
PRESERVING THE HUMAN FACTOR
What is even more apparent than 10 years ago, despite recent technological advances, is that consumers are still keen on the human factor. the proportion of people who prefer machines over cashiers is down 2 points (47%). And the idea of getting rid of sales staff is up just 3 points (51%).
France, Germany and Austria stand out in citing product and brand presentation and choice, as well as accepting a less pleasant shopping environment, as ways of lowering prices.
The answers given also reveal a significant generational divide, particularly when it comes to the human aspects of the purchasing process. Millennials find it easier than seniors to imagine life without sales assistants and cashiers. Meanwhile, from an environmental perspective, they signal a preference for green products.
FIG. 28 :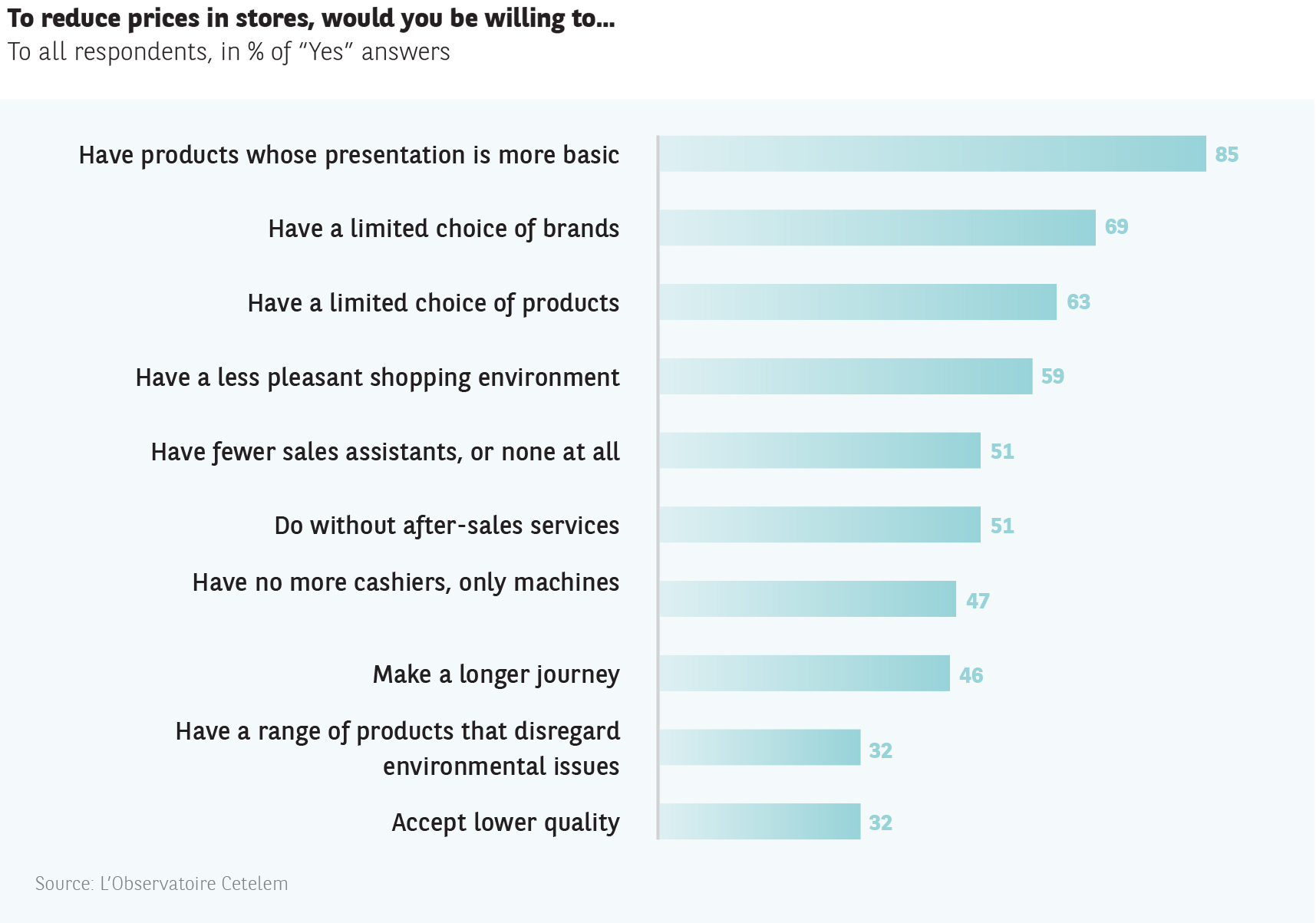 Download this infographic for your presentations
HIGH EXPECTATIONS OF CHANGE
While many consumers are counting on a reduction in the number of brands to drive down prices, they also intend to put pressure on those that remain on the market. This pressure will come from all sides, based on selection criteria that will become increasingly important in their eyes (Fig. 29). As always, good value for money remains at the top of people's expectations (64%), but this is down 8 points from 2013.
Many other criteria, all linked to sustainable consumption, are cited to almost the same extent. For example, Europeans expect products to be easily repairable (63%).
They also want brands to develop with the environment in mind, greater transparency regarding the manufacture of products, and products to be free of in-built obsolescence (59%, 59% and 56%).
The human dimension also lies at the heart of people's expectations and future choices. They demand that jobs be protected in their country, that human rights be respected, that employees and suppliers be fairly compensated, and that values and ethics be upheld (59%, 58%, 58% and 53%).
As highlighted previously, health is one of the fundamental components of this new form of responsible consumption.
Brands are going to need to take this on board (56%).
This is a criterion that has gained a great deal of importance since 2013 (+6 points).
FIG. 29 :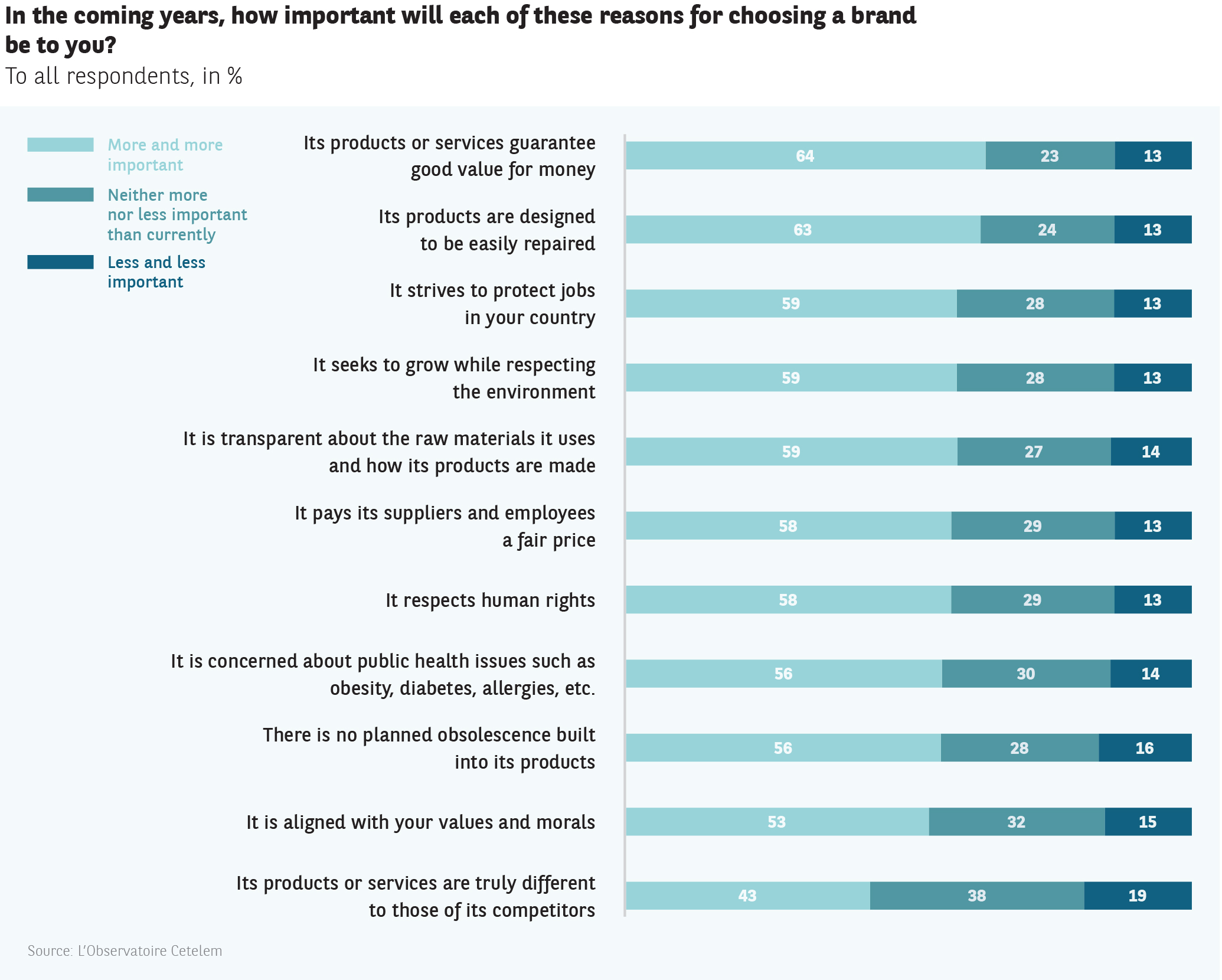 Download this infographic for your presentations
A trend towards activism
The second-hand market is booming. It is expected to overtake fast-fashion within 10 years.
In France, it is worth €50 billion across all sectors.
the market leader is the website Leboncoin, which publishes 1 million ads each day and boasts 28 million monthly visitors.
Also jumping on the bandwagon are retailers such as Bocage, which offers pre-worn shoes, and Camaïeu, with its digital dressing room.
60% of French respondents say they purchased a used item in 2019, compared with 47% a decade ago.
(Source: C-Panel – C-Ways)
A trend towards activism
"Makers" are not so much about DIY (Do It Yourself) as they are about RIY (Repair It Yourself). New companies such as Ifixit or Spareka help consumers battling planned obsolescence to repair their electrical appliances.
The European Commission is also now looking to tackle the issue. On 1 October 2019, it passed a regulation on the reparability and recycling of household appliances.
For instance, spare parts for refrigerators will have to be available for at least 7 years, while the minimum for washing machines and dishwashers will be 10 years.
What savings are expected to be generated by the various measures taken? At least €150 per household per year and the equivalent of one year's worth of Danish energy consumption by 2030.
Sub-section 9
Consuming less and differently
This shift in consumption patterns will prompt a reduction in spending that is set to affect all sectors significantly (Fig. 26). Of those who are keen to save money, almost half intend to do so by
Sub-section 11
Activism tha benefits the community
Activism on the part of European consumers is not about securing improvements and benefits purely for themselves. Indeed, far from being motivated by selfish interests, it is part of a broader approac