Section 1 - Loyalty, warning, fragile
Always going beyond expectations
Manufacturers and makes have a lot of work to do on product design and vitalisation, which must then be backed up by promotion and PR campaigns, but are efforts recognised?
Makes that live up to expectations
For 70% of people surveyed, the makes are doing what it takes to make them loyal.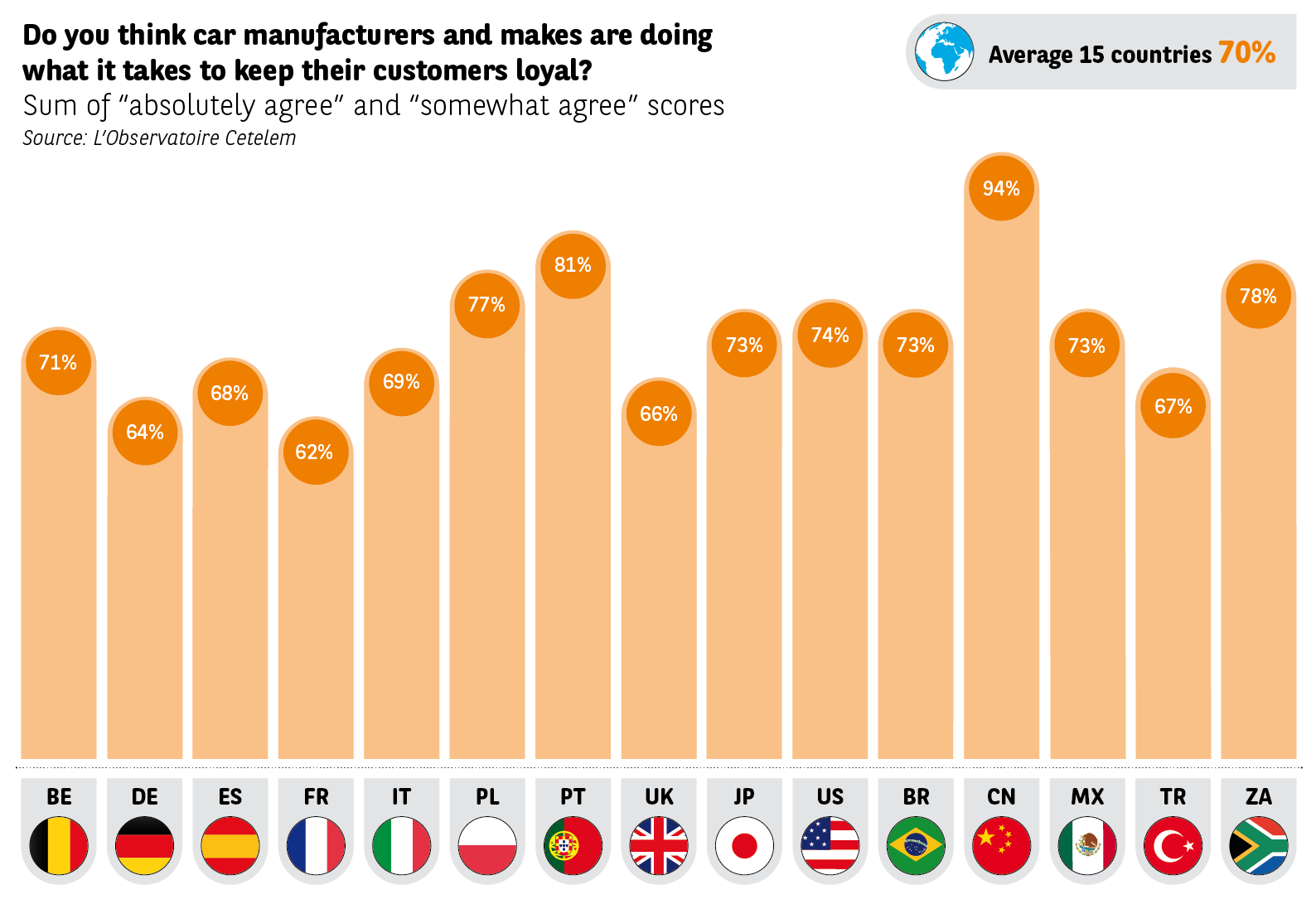 Download this infographic for your presentations
This is true even for 60% of French and German consumers, the two populations least convinced by these efforts. However, given the actual loyalty rate, one wonders whether the makes are really doing what it takes. So, should the lack of loyalty observed by the survey and the dealers be blamed on the dealership channels and distributors who intervene at all stages of the car experience (pre-sale info, quotes and sales, after-sales servicing and repair services, etc.)? This traditional role, however, has tended to decrease at both ends of the purchase pipeline.
A changing role
The Google Cars online 2016 survey shows that, on average, buyers now only test drive cars 1.3 times on the dealer's premises vs. 2.6 times in 2010. Social networks, online videos, and expert forums are increasingly taking over from actual test drives. After the purchase, make dealerships suffer from competition by automotive centres and other fast repair specialists waging a price war to attract customers, whether they supply warranties or not.
Now, we know that loyalty is twice as high in customers habitually using a make's own distribution channels for their servicing and repair needs. In the United States, the makes even reward their dealers not only on the basis of sales volumes, but also on their loyalty performance. The aim is to create a true and long lasting relationship of trust.
Responsive professionals
The 2018 survey conducted by L'Observatoire Cetelem de l'Automobile shows that 69% of respondents state that dealers/garage owners are also doing what it takes to secure their loyalty.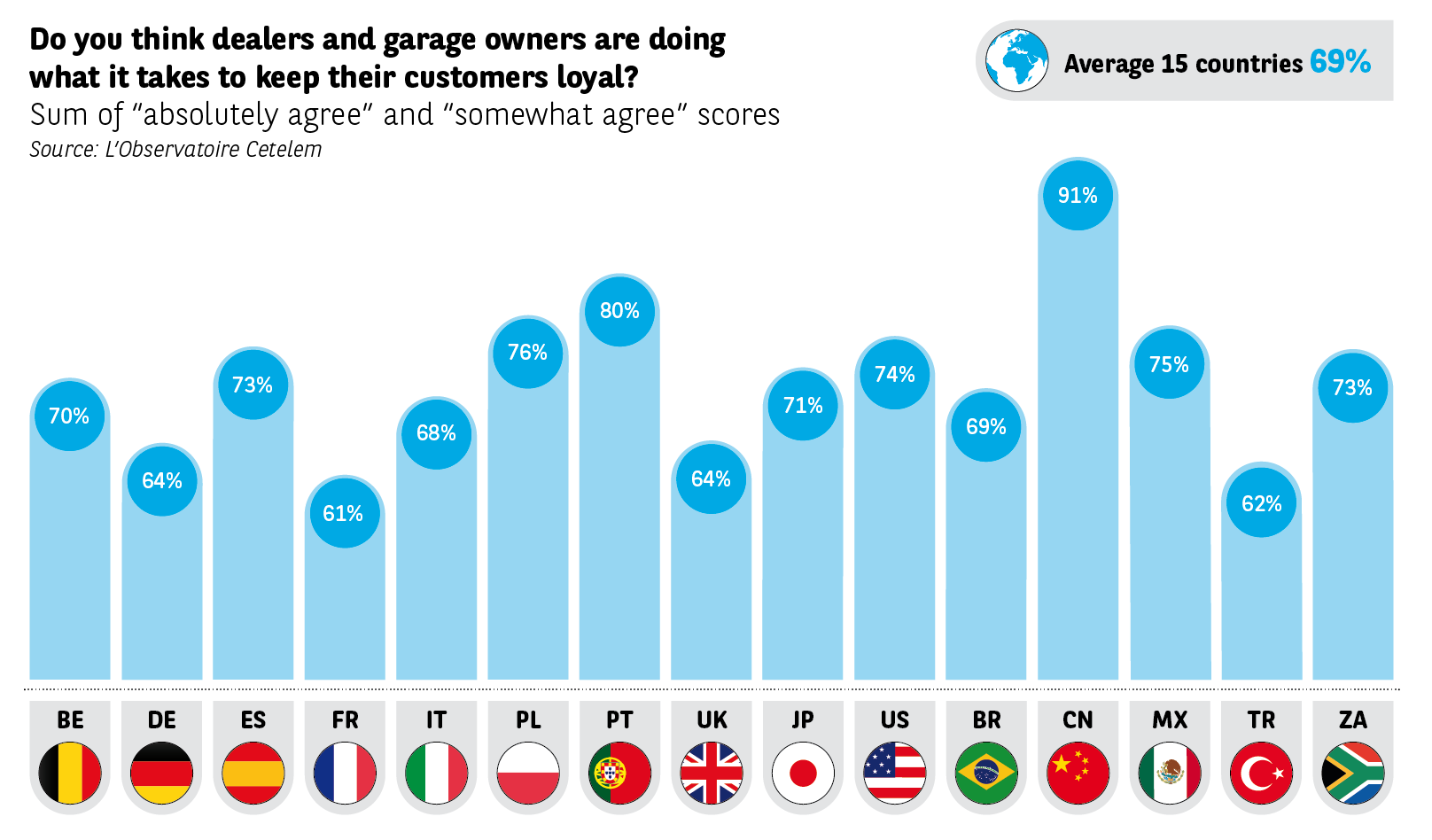 Download this infographic for your presentations
They have succeeded in innovating in response to changing commercial practices: new services (short rentals, doorstep delivery, customer clubs with exclusive benefits and services, etc.), brand-new showrooms, experience pathways with virtual reality configurators, etc. The commercial communication style has become more specific with regular, direct follow-up and contacts (calls, mail, and e-mails), especially across the social networks. Online sales websites and platforms run by the dealerships are there to back up the manufacturers' own versions of them. The business is changing along with society and customer trends. Although these actions are definitely real, they are not an absolute guarantee of seduction. 64% of motorists begin their customer journey without the slightest idea of the make they will eventually buy (Google Cars online 2016 survey).
Sub-section 7
Setting an example
Being exemplary is even better than being liked. 71% of the people surveyed say that loyalty to makes that are involved in environmental scandals will lessen. In every country, the score is fairly clo
Sub-section 9
Pulling more than one lever
Good products, good dealerships… What else do you need to win over and keep your customers loyal? The formula may seem trivial, but loyalty also depends on price. When motorists are asked to ra