Section 0 - Introduction
Editorial
Since its creation, L'Observatoire Cetelem has always kept its finger on the pulse of developments in the automotive world, while also endeavouring to predict where the industry is headed. In a year that has seen the world hit by a succession of economic and geopolitical crises – after two years dominated by the global pandemic – it is clear that this pulse is no longer beating particularly strongly.
Motorists have been left voiceless as the output of automakers has gone into limp mode, primarily due to the issues affecting the supply of electronic components. Despite expressing strong demand for new vehicles, the travails of the sector have meant that their needs have often remained unfulfilled. What's more, many manufacturers had chosen to focus on profit margins rather than sales volumes.

And when the energy crisis, high inflation and the war in Ukraine came along, these same motorists found themselves at an even greater loss when the second-hand market also fell foul of these issues.
If there is one central lesson to be learned from L'Observatoire Cetelem de l'Automobile 2023, it is that motorists have been hit hard by the rise in fuel prices, to the point where running a vehicle is becoming increasingly unviable and where many are doubting whether they will continue to use one in the future.
The idea of governments offering support whatever the cost, an approach that will have marked French history during the Covid era, is now being explored both on a personal level with regard to motorists and on a global level with regard to manufacturers. Could it be that the sector as a whole is heading towards a dead end and that motorists are gradually learning to live without their cars? Could one possible saviour come in the form of electric vehicles – the purchase of which has been encouraged by generous public subsidies and will soon be mandated by regulations – if they cease to be luxury products accessible only to those who are comfortably off? Is soft mobility on its way to becoming a credible alternative to the automobile?
This latest edition of L'Observatoire Cetelem de l'Automobile seeks to draw insights that will be crucial to the future of the automotive industry.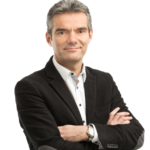 Flavien Neuvy
Head of L'Observatoire Cetelem
Summary
Cars : Whatever it takes?
Sub-section 2
A must-have item
Although there have been signs in recent years that car sales are running out of steam, and not only because of the Covid crisis, motorists still seem unwilling to live without a vehicle, despite the